Component seals
Cartridge seals
Cartridge seals with integral bearings
Custom-built.
Hygienic seals.
New and refurbished seals for the common makes of Mills like Dyno-Mill, Drais & Sussmeyer™
We also supply a large range of items used for those mills: PTFE lip seals & Tungsten Carbide rotors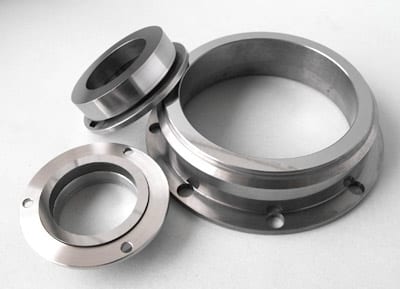 Cartridge Seal products
Single
Flush, quench and drain connection options
Restriction bush provided
Double
Latest technology for maximum emission control
Custom-built specials
DOWNLOAD CARTRIDGE SEAL PDF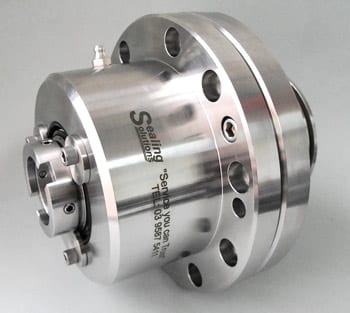 CinchSeal are air or nitrogen purged seals for use on screw conveyors, ribbon blenders and other rotating equipment.
They provide a unique solution sealing vapours, gases, resins, liquids, powders, pastes and slurries where conventional seals cannot be used and can be found in a broad range of industries where there has been no reasonable alternative to the traditional sealing methods of the past.
The product is simple, easy to install, doesn't require onerous tolerances for operation, will not wear shafts and has very few wearing parts.
This robust sealing solution has applications in most industries from food and beverage to mining to chemical.
Benefits of CinchSeal:
Easy, low cost installation
No damage or wear to equipment shaft
Limited auxiliary equipment requirements
Rugged construction
Types of Equipment used for:
Screw Conveyors
Blenders of all types
Bucket elevators and drag chain conveyors
Agitators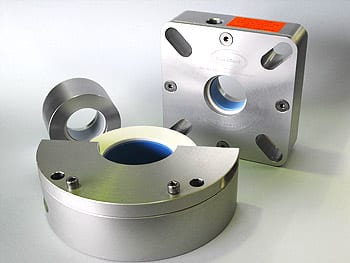 Range of Industry Applications
Food & Dairy
Pharmaceutical
Paint & Pigment
Mining & Minerals
Cement & Gypsum
Pulp & Paper
DOWNLOAD CINCHSEAL BROCHURE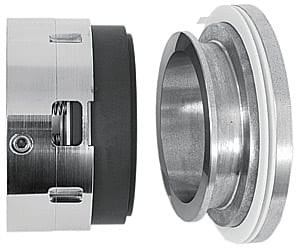 Elastomer & PTFE Products
Huge O-Ring range
FDA grade available
Rubber extruded, moulded and machined profiles in all shapes and sizes
PTFE ENCAPSULATED SEAL PDF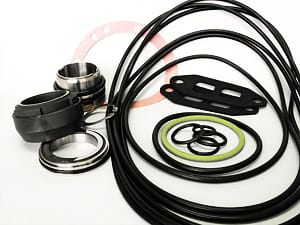 A gasket is a mechanical seal which fills the space between two or more mating surfaces, preventing leakage from or into the joined objects while under compression.
Gaskets allow "less-than-perfect" mating surfaces on machine parts where they can fill irregularities and are commonly produced by cutting from sheet materials.
Comprehensive range of cut & sheet options
Pump and Valve Packing
Gaskets
Envelope
Metallic
Spiral wound
FDA grades available
Expanded PTFE
Joint sealant and sheets
Download Gland Packing PDF
Mechanical Seals - Multi Spring, Metal Bellows & External
Hi-Pressure Balanced—Internal & External
Chemical Industry
Hot Oil Applications
Boiler feed duty
Download Multi Spring PDF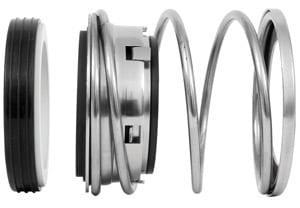 Submersible Pump Seals & Kits
ABS™
Davey™
Flygt™
Forrers™
Grundfos™
Hidrostal™
Sarlin™
Tsurumi™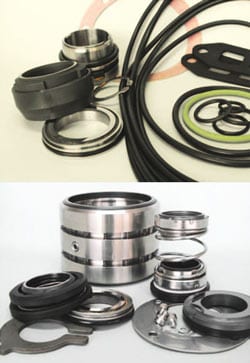 Seal Faces / Bushes / Rings
Carbon
Ceramic
Chrome Oxide
Tungsten Carbide
Silicon Cabides
Quality and longevity of seal performance is a key consideration when choosing these products for two main reasons
Cross-contamination between batches of chemicals
Environmental issues caused through leaks and contamination
Traditionally, braided gland packing and rubber gaskets have been widely used in the chemical and tank farm industries. Whilst these are available at a lower cost, their impact on product quality and overall poor seal life raises the question of true life product cycle cost.
We supply a range of products that have near universal chemical resistance, with the exception of some alkali metals, Fluorine and some rare fluorinated and complex halogen compounds. Depending on tanklid design, they can be used within the temperature range from -60 and +205 degrees Celsius and pressures up to 6 Bar.
Download expanded PTFE Joint Sealant Tape PDF
Comprehensive range for the chemical & tank farm industries
Envelope Gaskets
PTFE Tank Lid Seals
Encapsulated Square
Encapsulated Rectangular
Tanklid Seals
Performance Benefits
Endless and seamless encapsulation
Advanced, superior performance grades of FEP Encapsulation and Silicone core
Chemically inert
Easy to install
Inside diameters from 160 to 850mm
Cross section from 3x3mm to 50x50mm
Truly universal tanklid seal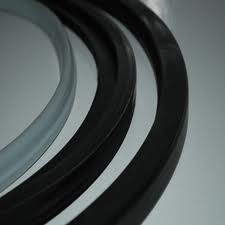 Get in Touch with us Today
We provide the highest standard of Sealing Solutions and Services to meet your needs